Engineered wood flooring offers classic looks and durability. It can work with a range of subfloors, including concrete
If you're on the hunt for a long-lasting floor material with a classic look, you might want to consider engineered wood flooring. This material has the beauty of solid wood and the durability of laminate and can work with most design styles and in many rooms. Here's what to know to decide whether this flooring choice could be right for your home.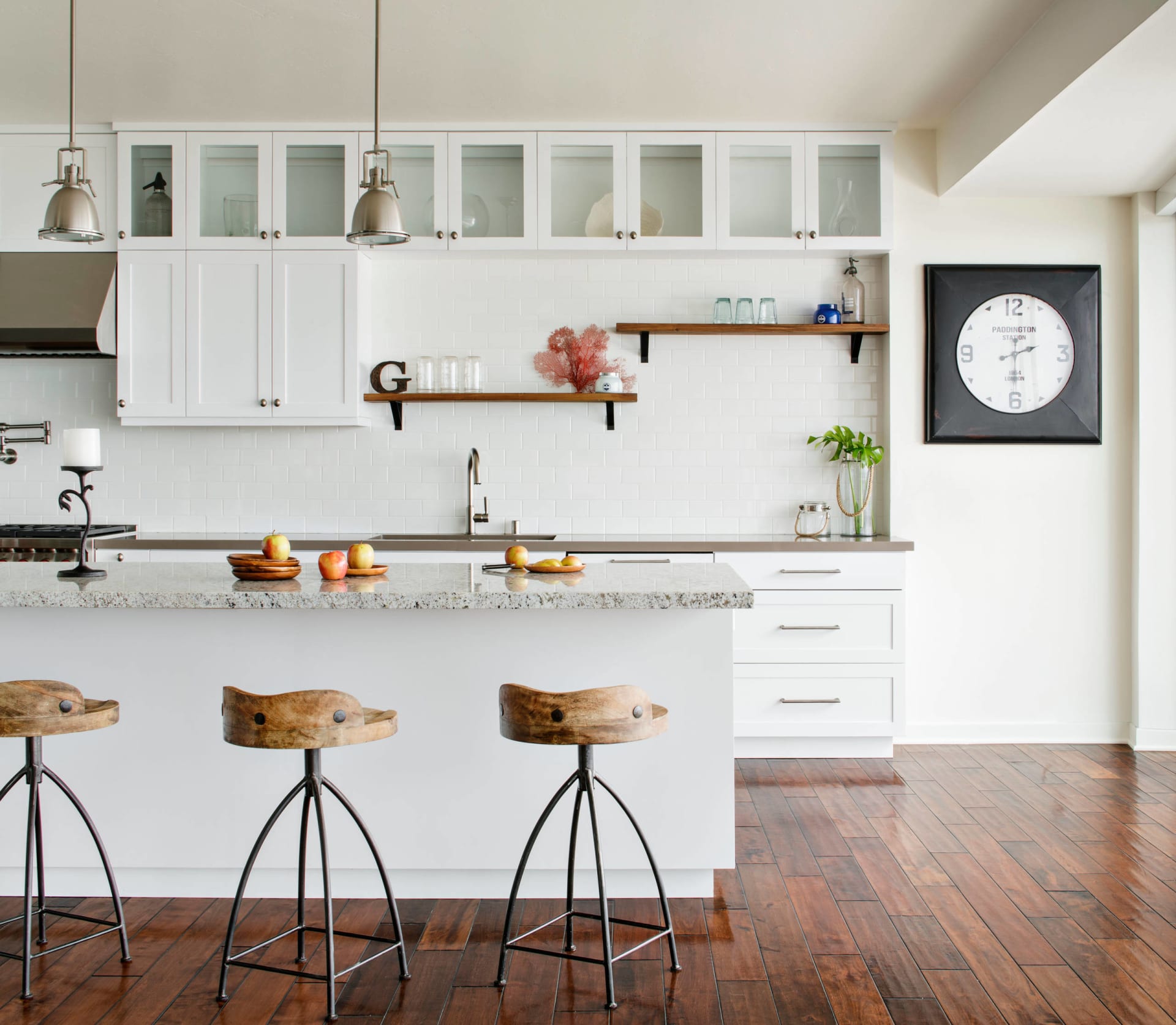 Hand-scraped engineered oak flooring adds a rustic flavor to this kitchen.
What is Engineered Wood Flooring?
Unlike solid wood, engineered wood floors have a top or "wear" layer made of solid wood, which covers a multilayer plywood core. The thickness of the top layer and the core will vary depending on the design and the manufacturer.
In total thickness, engineered wood planks vary from as low-profile as one-quarter inch (6.35 mm) to as thick as three-quarters inch (19 mm, or the traditional thickness of solid-wood flooring). The thickness of the wear layer typically reflects the caliber of the product. The industry norm is 2 to 6 millimeters, with a thicker wear layer generally indicating a more premium product.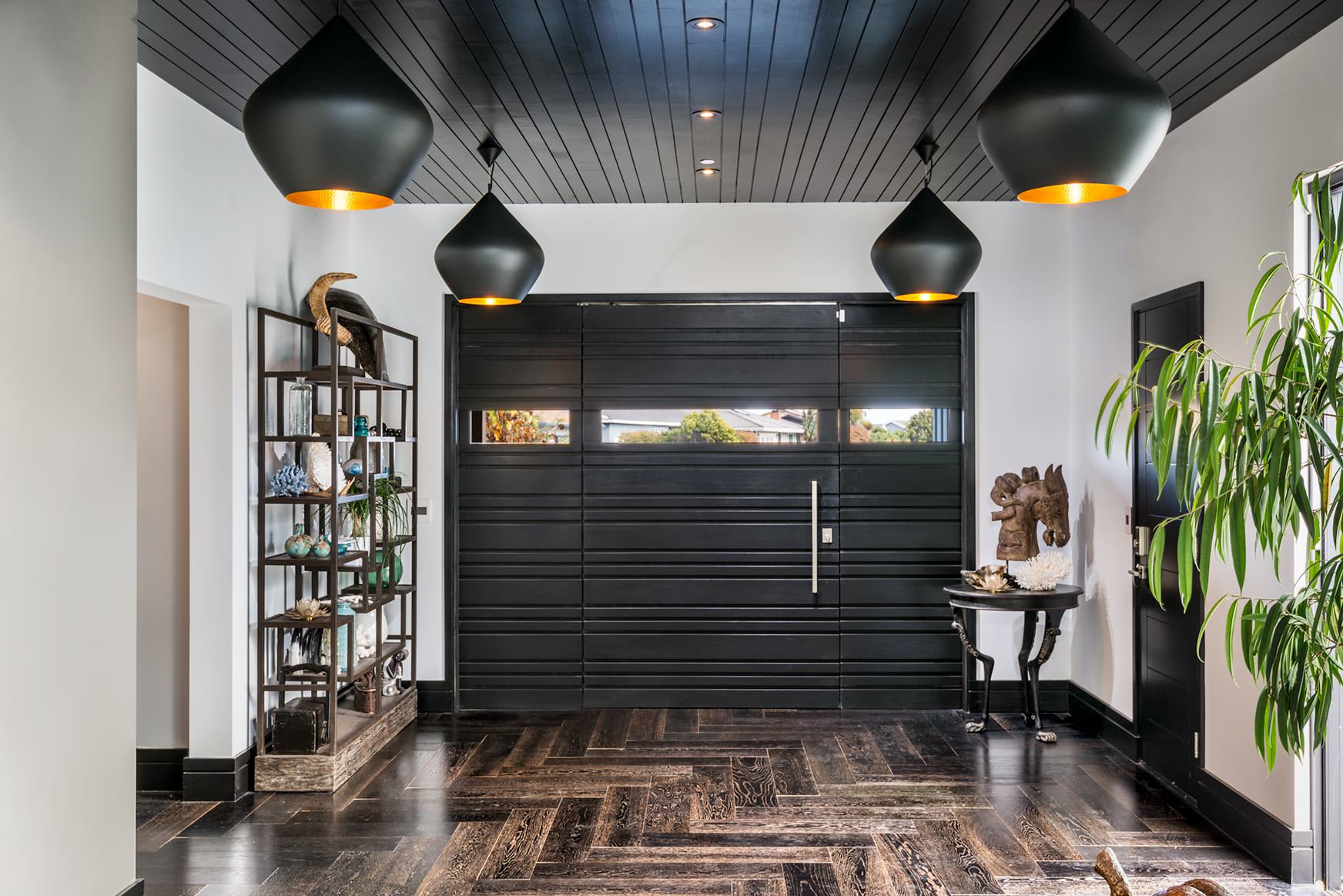 Multitone-engineered flooring installed in a herringbone pattern
The Advantages of Engineered Wood
Engineered wood flooring is available in a wide range of wood species, including oak, maple, hickory, birch, cherry, and walnut, as well as exotic woods like African mahogany and tigerwood. It comes in a variety of widths ranging from slim to wide planks and is offered in specialty looks such as multitone, shown in this photo, or hand-scraped, shown in the previous photo.
All wood products both solid wood and engineered wood are prone to damage from flooding or standing water and should not be subjected to large amounts of water. However engineered wood is more stable than solid wood due to having multiple layers in its core, making it less likely to expand, contract or shift when exposed to moisture, humidity, and temperature shifts. Its stability reduces the potential for warping that comes with all solid wood and particularly with wide planks of solid wood. The stability of engineered wood makes it a good choice in places where solid wood should not be installed, such as over concrete floors or radiant heating systems.
Since this material is available in more thicknesses than solid wood, it can be a good option if you need a thin wood (for example, to match the height of an adjoining floor).
Engineered wood can be less expensive than solid wood, though premium collections with thick top layers, artistic designs, and enhanced durability can have price tags on par with solid wood.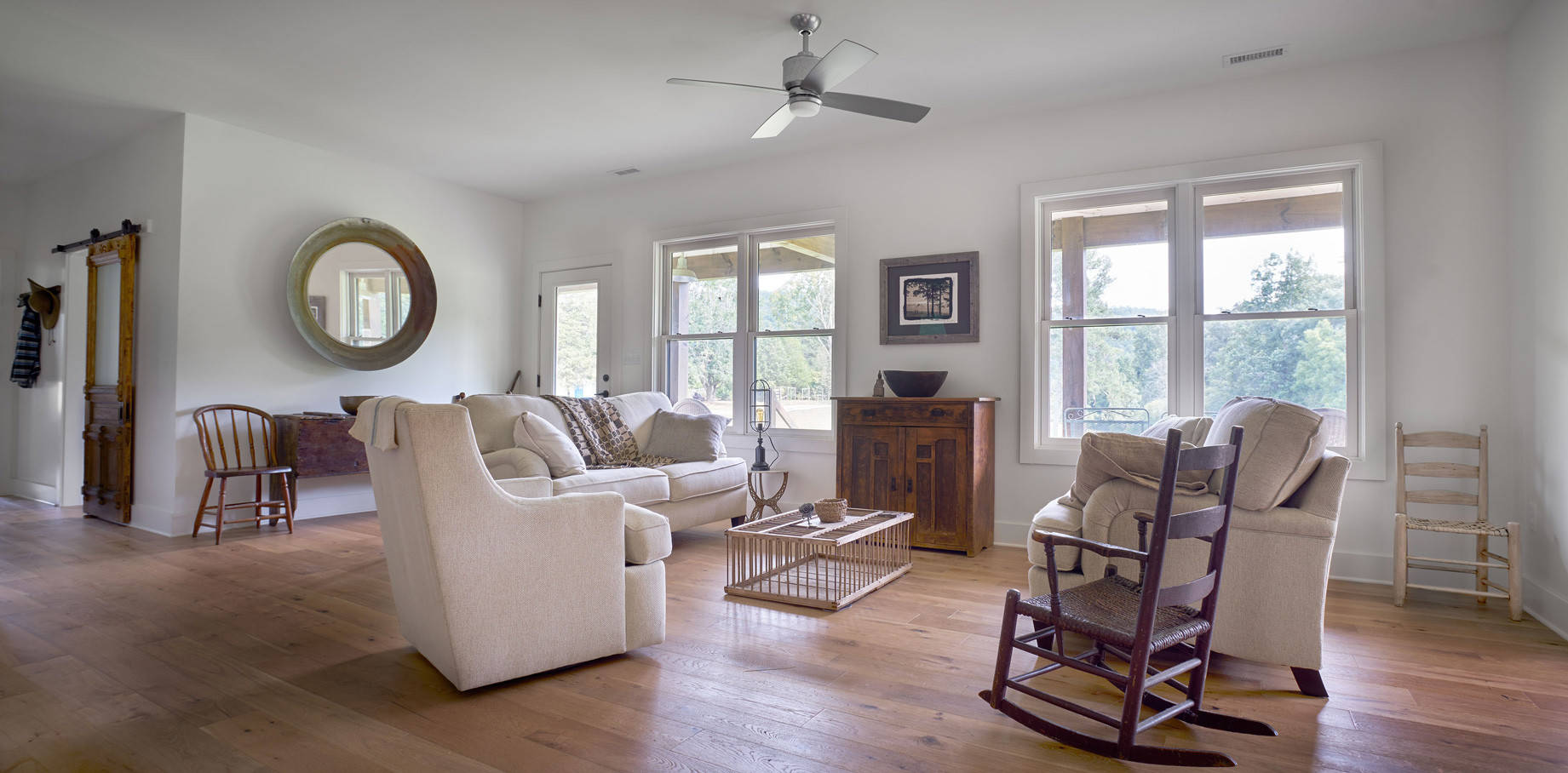 This living room features wide-plank engineered white oak flooring.
Engineered wood is also a great way to get the look of wide-plank wood floors, a staple of
farmhouse style
. In fact, engineered wood or reclaimed wood may be your only options if you want planks wider than 5 inches.
A century ago loggers would cut down large trees and make them into 10- or 12-inch-wide planks for flooring. But a growing interest in protecting old-growth forests eventually led to a shift toward sustainability in the industry, and these days loggers do not take down trees as large (and wide) as those they took 100 years ago. This is why solid wood planks are expensive and typically come at a maximum width of 5 inches. Engineered planks, by contrast, come in widths of 10 inches or more. (To be sure your engineered wood product is sustainably harvested, check for certification from the Forest Stewardship Council, or FSC.)
How to Install Engineered Wood Flooring
Engineered wood planks typically come with a
tongue-and-groove
construction that clicks or snaps together, making DIY installation an option for handy homeowners. Engineered wood planks can be installed using staples or glue, or by simply laying them on top of the subfloor no fixative or nails required. This means engineered wood can be installed over concrete floors or radiant heat. By contrast, solid-wood flooring must typically be nailed down and can't be installed over these types of subfloors.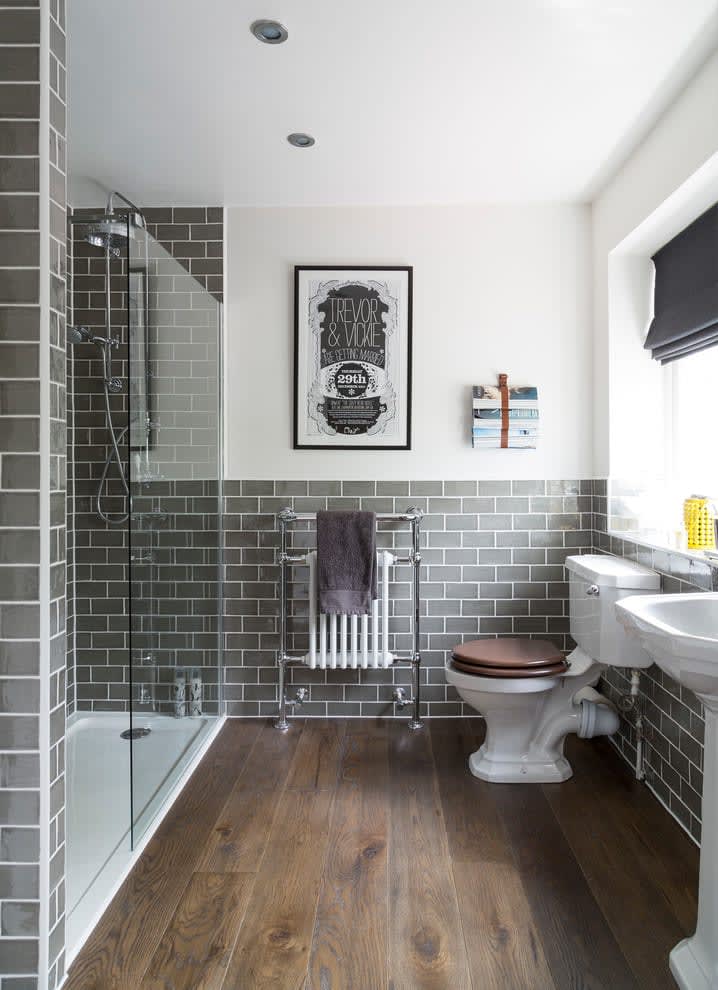 Dark engineered oak in a wide plank brings a classic feel to this bathroom.
Disadvantages of Engineered Wood Floors
Not all engineered flooring is created equal. Some products are made to last while others are poorly made, so be sure to do your research before you make your selection.
While many products are thick enough to look and feel just like solid wood, some engineered wood planks can sound more hollow under the foot. Installation method can make a difference here stapling or gluing the planks to the subfloor tends to diminish this hollow sound. Again, check with the manufacturer to find out how your preferred method of installation might affect how hollow the floor sounds.
Engineered flooring handles moisture swings better than solid-wood flooring, but it may still not be the best choice in bathrooms, laundry rooms, basements, or other areas where flooding could be an issue. Consult with your contractor about the use of engineered wood flooring in these areas of your house.
Can You Refinish Engineered Wood Floors?
While solid wood can be refinished many times, engineered wood may be sanded and refinished less often throughout the life of the floor. The thicker the wear layer, the more sanding an engineered floor can take.
If you have pets and kids and are concerned about scratches, I recommend you look at engineered wood with a thicker layer so you can sand and refinish the floor if needed.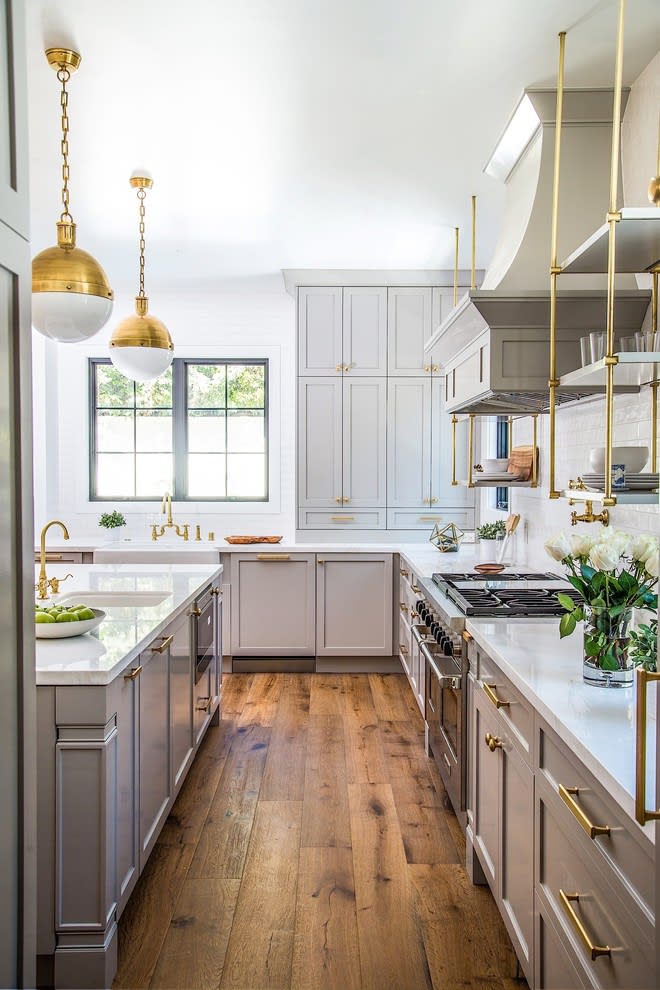 Engineered French oak in this kitchen emulates the look of solid wood.
Special Considerations
Engineered and manufactured wood products are made with adhesives and resins, most of which can give off potentially harmful gasses. Some engineered products, however, are designed specifically to not off-gas. If you're worried about this, contact the manufacturer of a product you are considering to see if their product will meet your needs.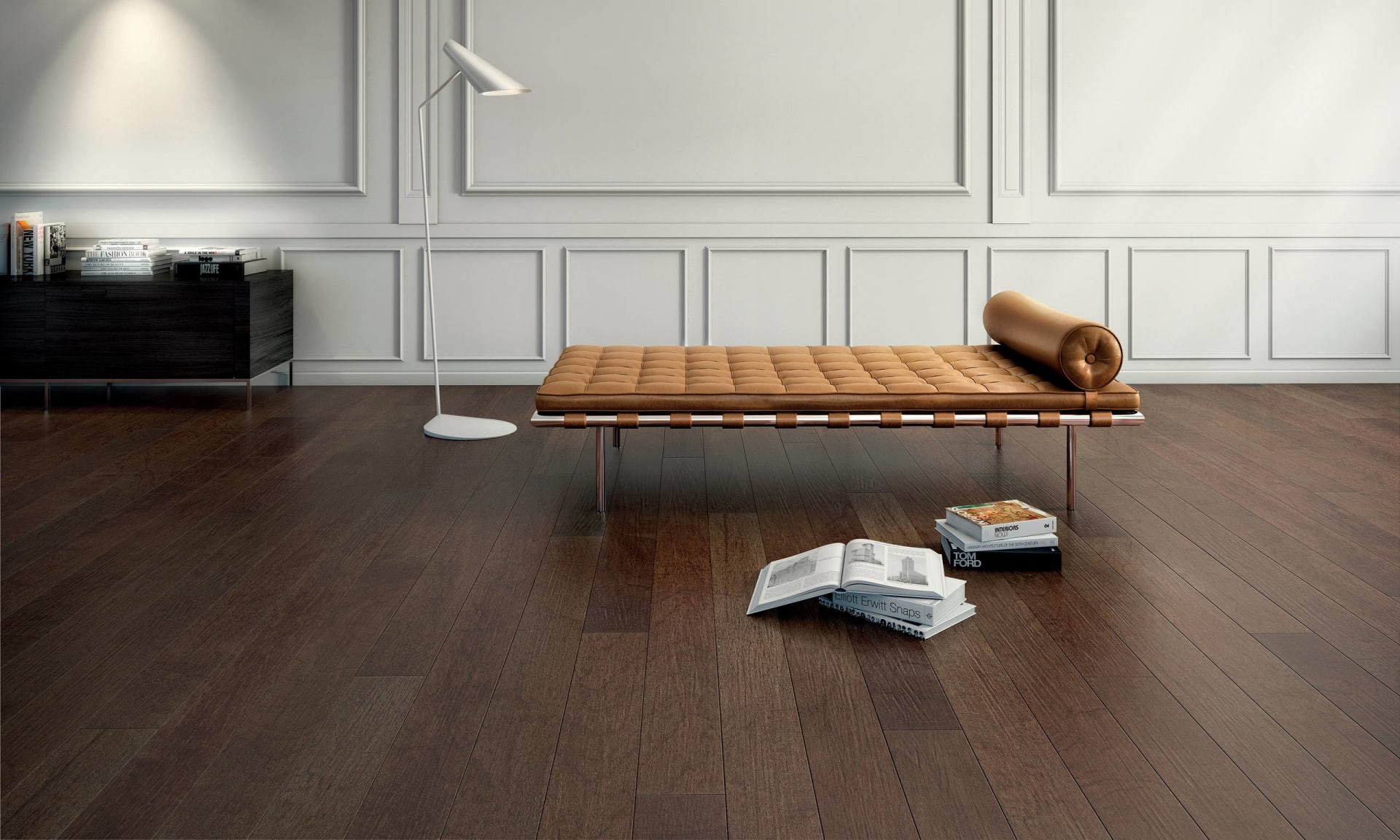 This hand-scraped Curitiba wood-engineered flooring offers subtle texture to this space.
How Do You Clean Engineered Wood?
Engineered wood flooring is easy to maintain. Simply sweep or vacuum daily and mop with a cloth dampened with water. Avoid ammonia, harsh detergents, scouring pads, or steel wool. It's always a good idea to refer to additional recommendations from the manufacturer.