With a Canadian border and the largest of the Great Lakes, Lake Superior,
Minnesota
is a perfect Midwestern destination for nature lovers. While the Twin Cities is a main tourist attraction, why not leave urban spaces behind and explore the Lake State? Minnesota is home to more than 10,000 lakes and lush countryside begging to be seen and photographed. Explore Minnesota's towns, filled with Midwestern charm and European roots.
Check out our list of these 15 irresistible small towns in Minnesota:
1. Biwabik, Minnesota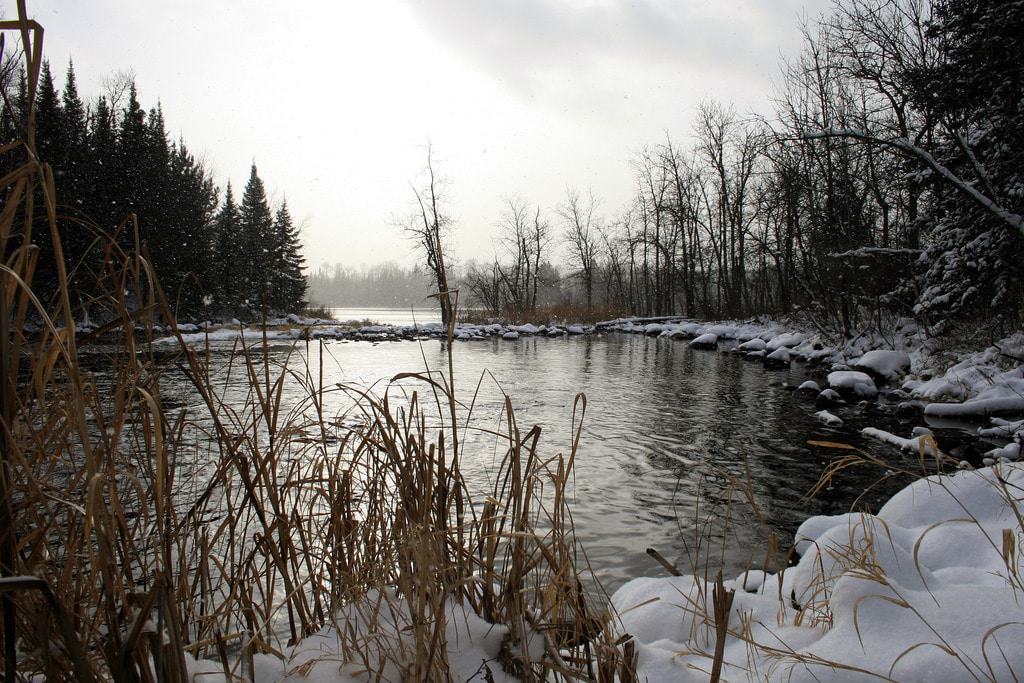 Biwabik, Minnesota
Located in Saint Louis County, Biwabik derives its name from the Ojibwe word for Iron, Biwabik-nabik-wan. Surrounded by lakes and water, Biwabik is a perfect getaway from those needing some tranquility. This charming small town retains the relaxed pace of years gone by, and is even the town that inspired a classic children's book, Honk, the Moose! Come spend a few days out at the Giants Ridge Recreational Area to play a round of golf or ski in the winter; Biwabik is a perfect nature retreat.
Enjoy the town's architecture when you arrive many buildings were inspired by Bavaria and Scandinavia since the original settlers of the area were mostly from Finland and Germany. The buildings combined with the scenic mountains give the town an alpine village feel, almost like you were transported to the Alps. Visit Honk the Moose statue or relax over a drink at Dave's Alpine Bar.
2. Ely, Minnesota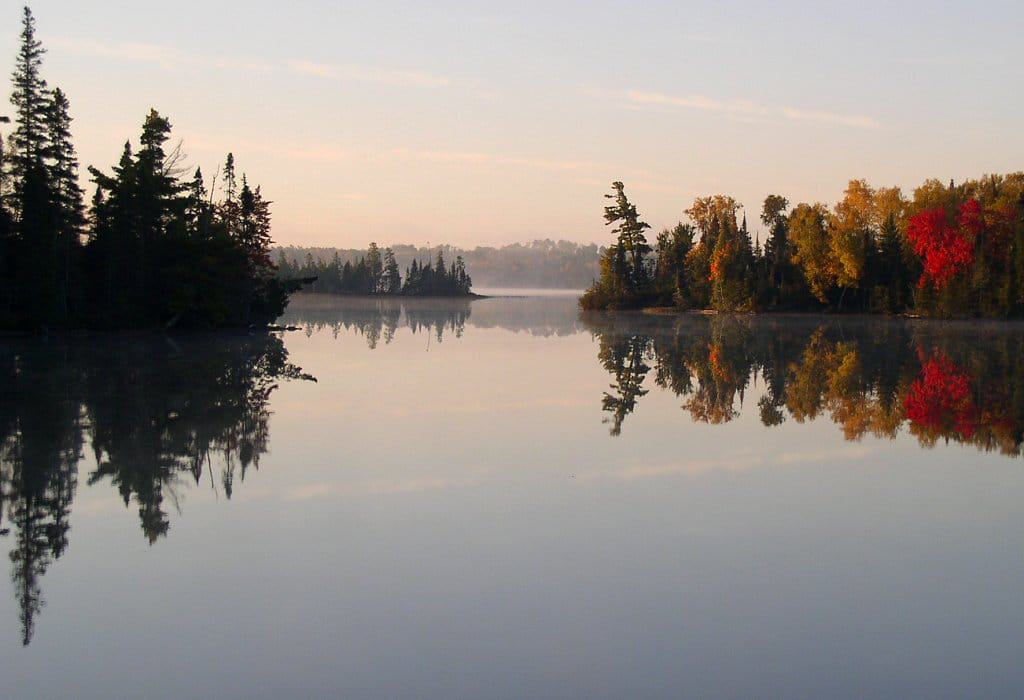 Bear Head Lake State Park, Ely, Minnesota
Ely is a small town located on the Vermilion Iron Range and at one entry point for the Boundary Waters Canoe Area Wilderness, a true haven for nature lovers. Originally settled by fur traders, the area didn't see a significant amount of immigration until the Lake Vermillion gold rush in 1865. While not much gold was mined, iron ore was discovered and became a key part of the economy. Ironically, the town is named in honor of a mining executive who never ended up visiting Ely.
Grab your hiking boots and hit the trails here there are several wilderness hikes in the area, such as Echo Trail, a former logging road, or Trezona Trail, that takes you out to the old iron ore mining operations. Ely is also the launch point for Boundary Waters Canoe Area Wilderness, a destination for canoeing and fishing, and is the most popular wilderness in the United States. If you need to restock on supplies before your adventures, there are plenty of shops waiting to supply you with any needed equipment.
3. Grand Marais, Minnesota
Grand Marais, Minnesota
Grand Marais is located in Cook County, and means "Great Marsh" in French and thus named by French explorers for the marsh that existed there during early fur-trading times. Situated close to the Boundary Waters Canoe Area Wilderness, it is ideal for the outdoor enthusiast as well as art lovers – it's also a regional arts and crafts hub and hosts numerous festivals throughout the year!
Visit in July for the Dragon Boat Festival, where the boats are shaped like a dragon with oarsman and drummers! Alternatively, you could stop by in August for the Fisherman's Picnic, when Grand Marais commemorates the old shoreline potlucks from logging and commercial fishing days. Walk off your fried fish at the Grand Portage State Forest or with a stroll down to the Grand Marais Lighthouse. You can always rest your sore feet at the Thomsonite Beach Inn & Suites when you're done.
4. Lanesboro, Minnesota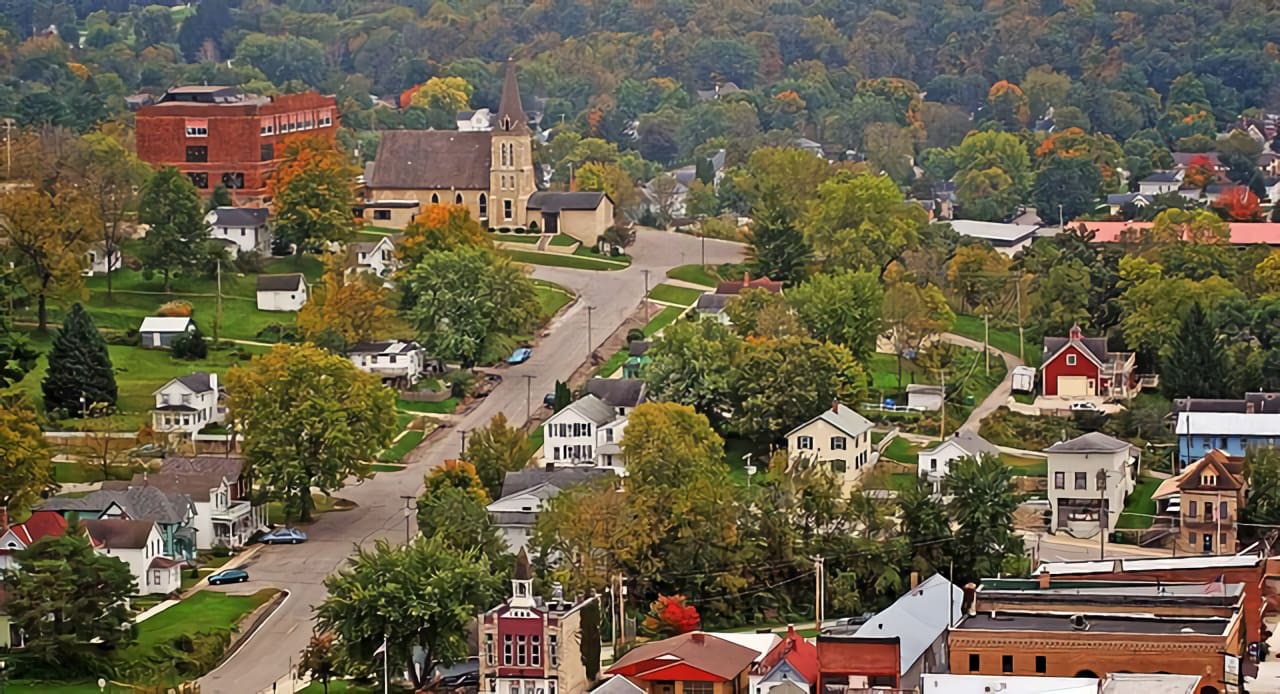 Lanesboro, Minnesota
Cozily situated in the Bluffs of the Root River Valley, Lanesboro is a hidden Southeastern Minnesota gem. With a relaxed small-town charm that continues to draw visitors, this town is perfect for some rest and relaxation at any of their many accommodations – it is known as the Bed & Breakfast Capital of Minnesota, after all!
Stay a few days at the Cedar Valley Resort, a log-sided cabin resort near the Root River Trail. Perfect for friends, families, or couples, enjoy the peace and quiet of nature. Walk out to the waterfall at the edge of town, or raft down the river. If you want to catch a show, look up St. Mane Theatre, a historic theatre that hosts year-round performances. Wander through the historic downtown and enjoy some delicious food at Los Gables!
5. Lindstrom, Minnesota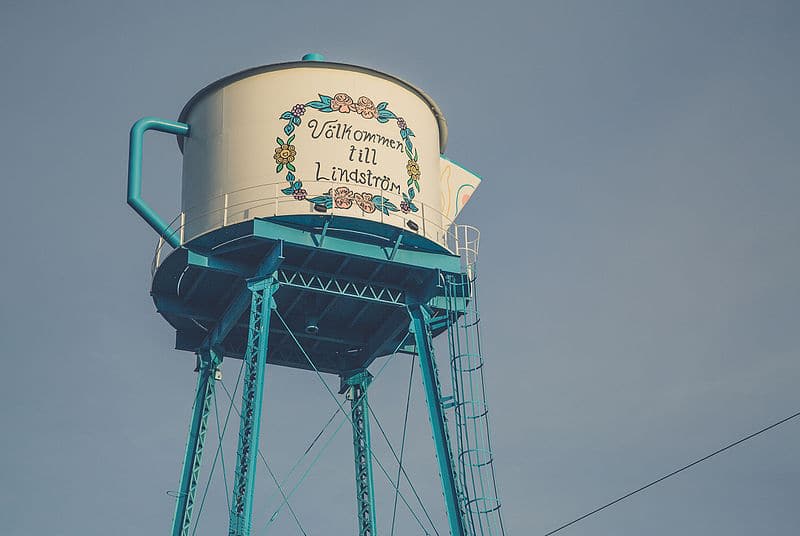 Lindstrom, Minnesota
Located in Chisago County, Lindstrom originally derives its name from the Swedish language, and is known as "America's Little Sweden". Named after founder Daniel Lindstrom, the town was founded in 1880 and soon grew as more Swedish immigrants traveled here to start new lives. A Swedish immigrant, Erik Norelius, wrote journals that partially formed the plot of Vilhelm Moberg's novels about the Swedish emigration to the United States, and the town continues to celebrate the this Swedish heritage to this day.
While a flight to Sweden itself might take a while, spend a few days to visit a town that has worked so hard to preserve its heritage. In July, you can attend the Karl Oskar Days event that includes community activities such as parades, dancing, and fireworks. Take a walk around town to see the statues of Kristina and Karl Oskar that commemorate their heritage or relax at the GrandStay Hotel and learn about the immigrants that helped build the United States.
6. Pipestone, Minnesota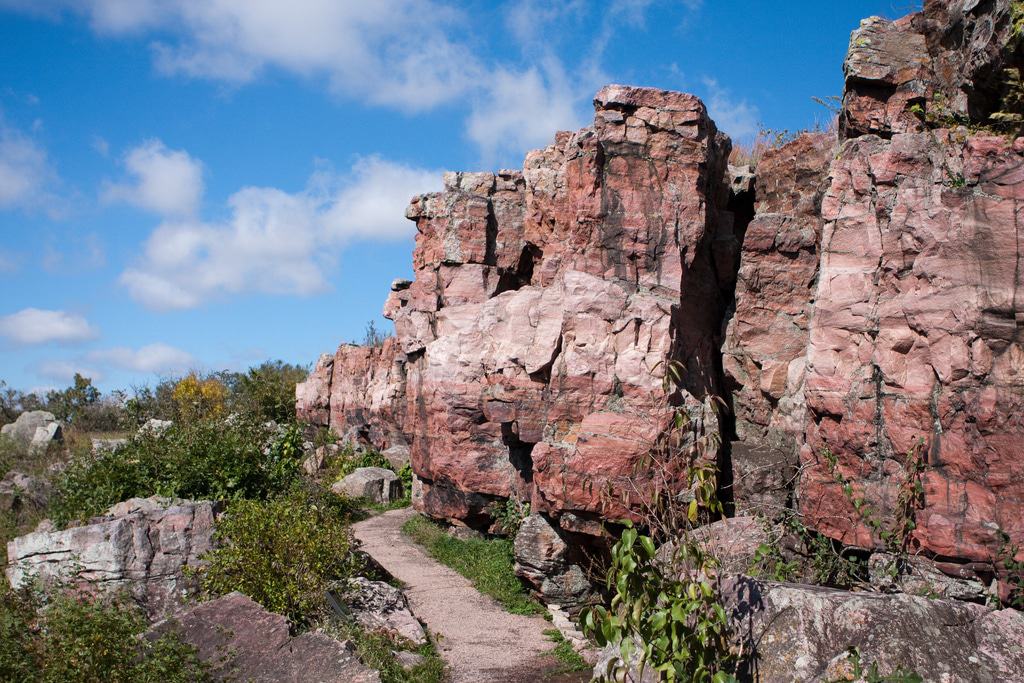 Souix Quartzite ridge and the hiking trail at Pipestone National Monument
Located in Pipestone County and named accordingly, Pipestone is the county seat and the site of the Pipestone National Monument. The local Native Americans have for centuries used the materials from the pipestone quarries around the Pipestone National Monument to make their traditional pipes, and still continue this practice to this day check out Keepers of the Sacred Tradition of Pipemakers while you are there and talk to them about it!
The town has also used the quartzite from the famous quarries to build its historic Calumet Inn and the county Courthouse, and legend has it that the famous rock was a square-cut jewel lying on green velvet, something that seems accurate when you see the red stone set against and almost hidden by prairie grass. Come to Pipestone to experience a quaint prairie town – there is a visitor center with a walking trail along both the Pipestone Creek and Winnewissa Falls that are nestled in the tallgrass prairie. You can even buy a selection of Native American art and craft items from the locals!
7. Red Wing, Minnesota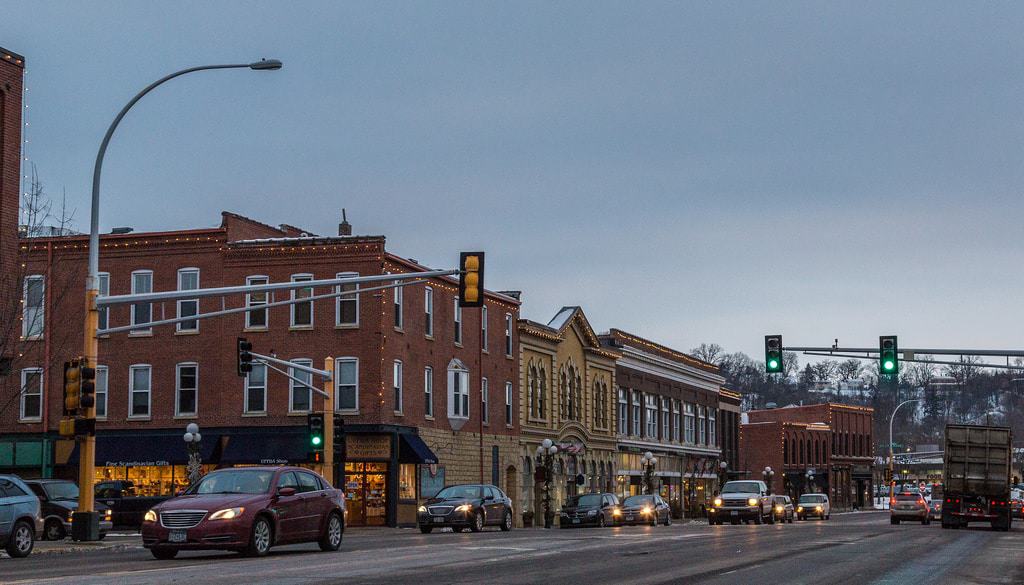 Red Wing, Minnesota
A short distance away from the Twin Cities, Red Wing is a perfect destination for either day trips or a long weekend. The town is nestled on the bank of the Mississippi and is framed by the spectacular backdrop of the Mount La Grange, named by the French explorers when they first a arrived here. Full of ways to entertain yourself, you can wander the cute brick storefronts, go shopping, explore the Victorian houses, or head out into nature.
Take a swim in Lake Pepin, or wander through the trees it's the prettiest in autumn. You can take a trip to the orchards or wineries during this time of year as well. Collectors' items abound in this town, especially at the Collectors Society convention in July, and there are plenty of artsy outlets for those interested at the Fall Festival of Arts! Walk down to the dock and imagine Red Wing when it was just a dock stop, before heading over to the Candlelight Inn to put your feet up. You can always stop in at the Harbor Bar for a drink and live music.
8. Stillwater, Minnesota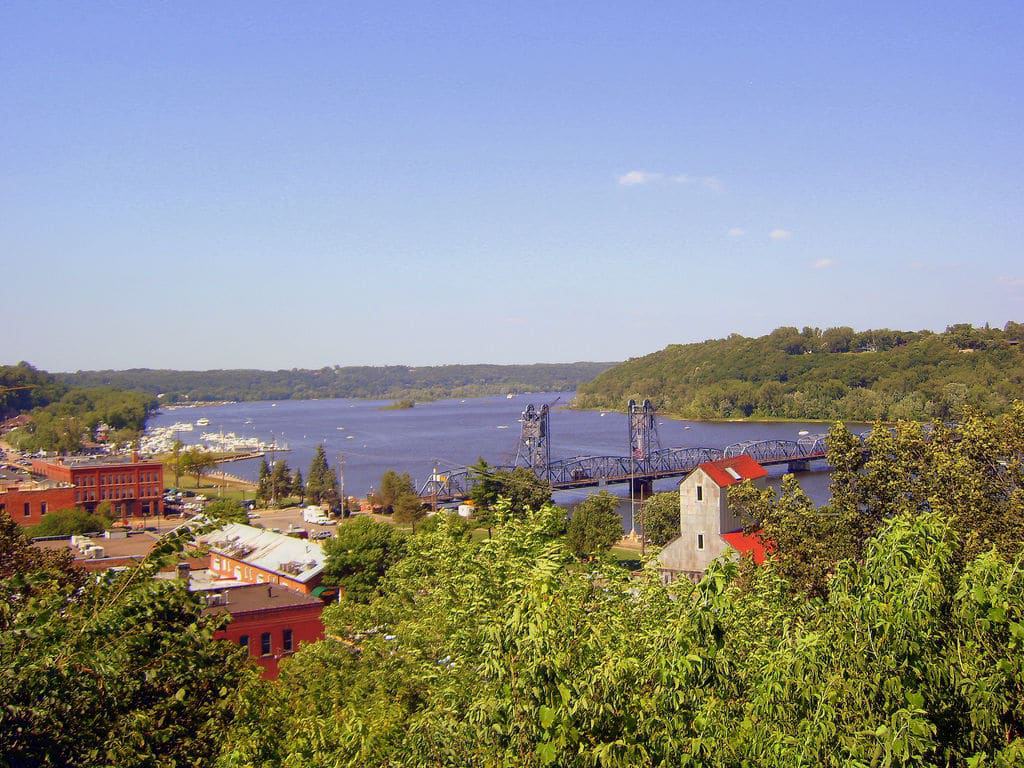 Stillwater, Minnesota
On the banks of the St. Croix River across from Wisconsin, Stillwater is in Washington County. It was first settled in 1837 when the US government reached a treaty agreement with the local Native Americans. The lumber and river business drew in the settlers and makes Stillwater one of Minnesota's oldest towns, and is named after the calm waters of the St. Croix River. Come here to see the birthplace of Minnesota they held a convention in 1848 in town that started the process of declaring Minnesota a state!
Even after all these years, Stillwater is still an important tourist destination for the Twin Cities area. Its historic downtown is full of bookstores, antique shops, restaurants, and many other historic sites. Bring your camera to capture the beauty of the St. Croix River valley and take a walk across the Lift Bridge. After your walk, why not stop in for a scoop at Nelson's Ice Cream, and treat yourself to a rejuvenating stay at the Aurora Staples Inn.
9. Taylors Falls, Minnesota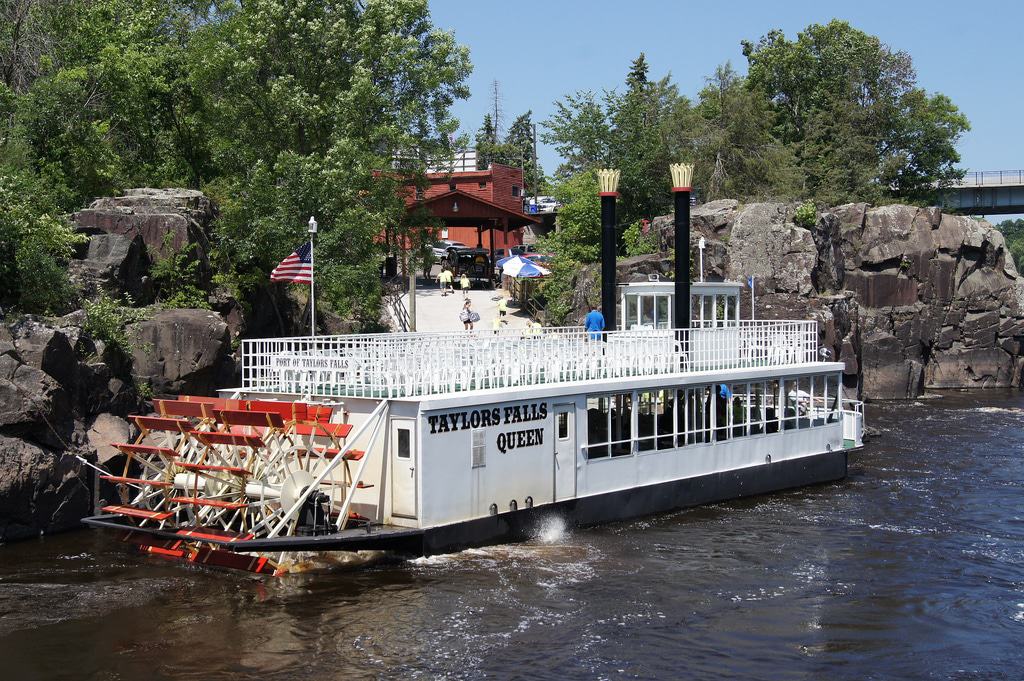 Riverboat Cruise, Taylors Falls, Minnesota
Right at the junction of US Highway 8 and Minnesota State Highway 95, Taylor Falls is in Chisago County. Named after Jesse Taylor, a local politician, it was incorporated in 1850. It is an ideal winter destination –there is a ski and snowboard resort, Wild Mountain, which also offers a water park during the summer months. There are over 20 ski hills around Taylor Falls and is the first ski resort open in Minnesota every year!
Take a turn off the beaten path and visit Taylor Falls. Take a trip up the St. Croix River on the Scenic Boat Tours, or take a hike at Interstate State Park. If you're a wine lover, tour the Wild Mountain Winery and explore the historic downtown area Taylor Falls is home to the first public school in Minnesota! Drop your bags at High Woods Bed and Breakfast before refueling at the Romaynes Sports Bar and Grill. There is plenty around for active visitors or those interested in relaxing.
10. Lake City, Minnesota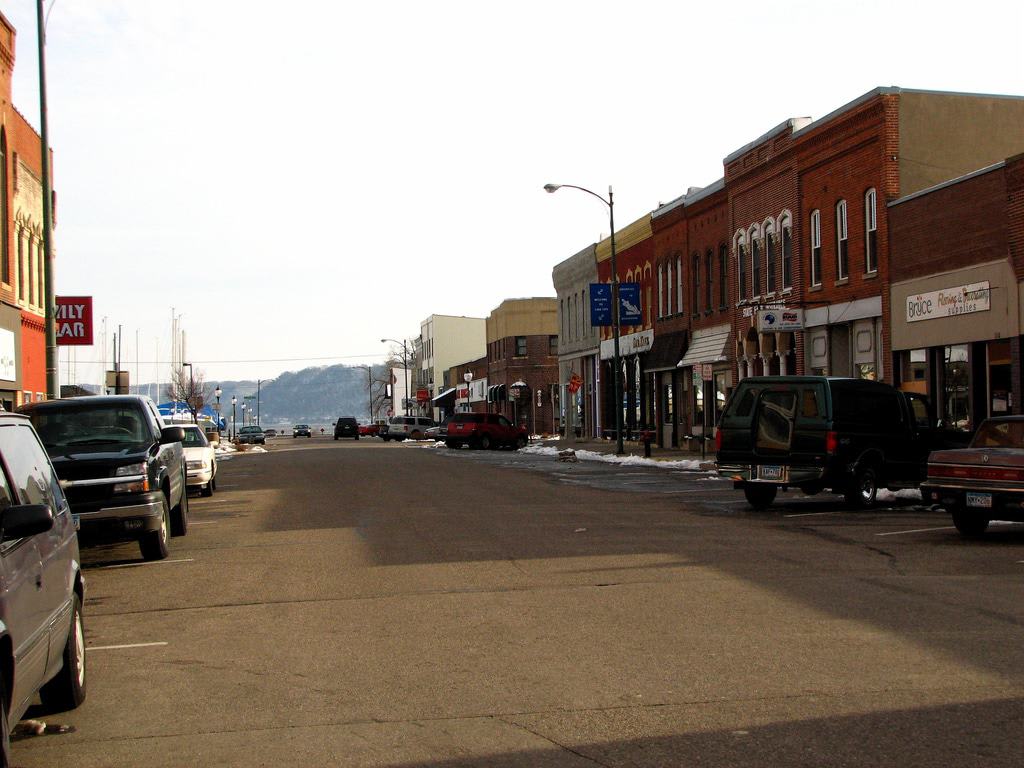 Lake City, Minnesota
Located on the Pepin River, part of the Mississippi River, Lake City is split between Goodhue and Wabasha counties. First settled by Jacob Boody, a port was created to facilitate trade and a market for grain. Soon, Lake City became profitable due to the volume of trade brought in. An attractive destination due to its scenic surrounds and lakefront location, the town is home to the inventor of waterskiing, Ralph Samuelson.
Activities for outdoors enthusiasts abound: Hang gliding, sailing, and golfing are also options. Bring your swimsuit and go out on the lake to waterski, or take the chance to learn how! Or you can take a paddleboat out at Pearl of the Lake Paddleboat. Relax at the hotel Willows on the River and check out Nosh Restaurant & Bar for some good eats.
11. Henderson, Minnesota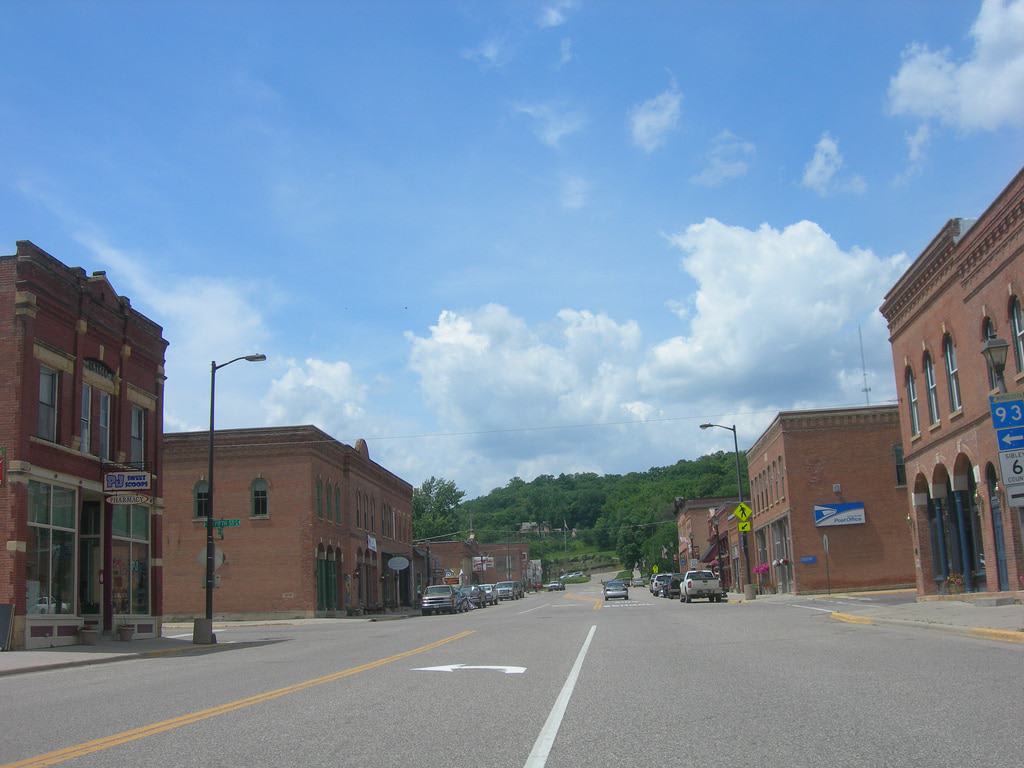 Henderson, Minnesota
Henderson is located in Sibley County and was founded in 1852 by Joseph Brown, who named the town after his mother. The small town grew and became a distribution center for the inland part of the Minnesota River Valley and had two major brickyards you can still see the influence in the brick style buildings from the 1900s today. More recently, the economy has become more agriculturally focused and retains that essence of small, Midwestern town charm.
Henderson is most famous for its Sauerkraut Days, a three-day event that happens in June. The town hosts a Kraut Care Cruise, a Kraut Run, tractor ride, a parade, car shows, and even a Miss Henderson Coronation. Last but not least is the World Champion Sauerkraut Eating Contest why not come out and give it a try? You can also get an adrenaline rush at Kerfoot Canopy Tours, or relax instead over a pint at Neisen's Bar.
12. New Ulm, Minnesota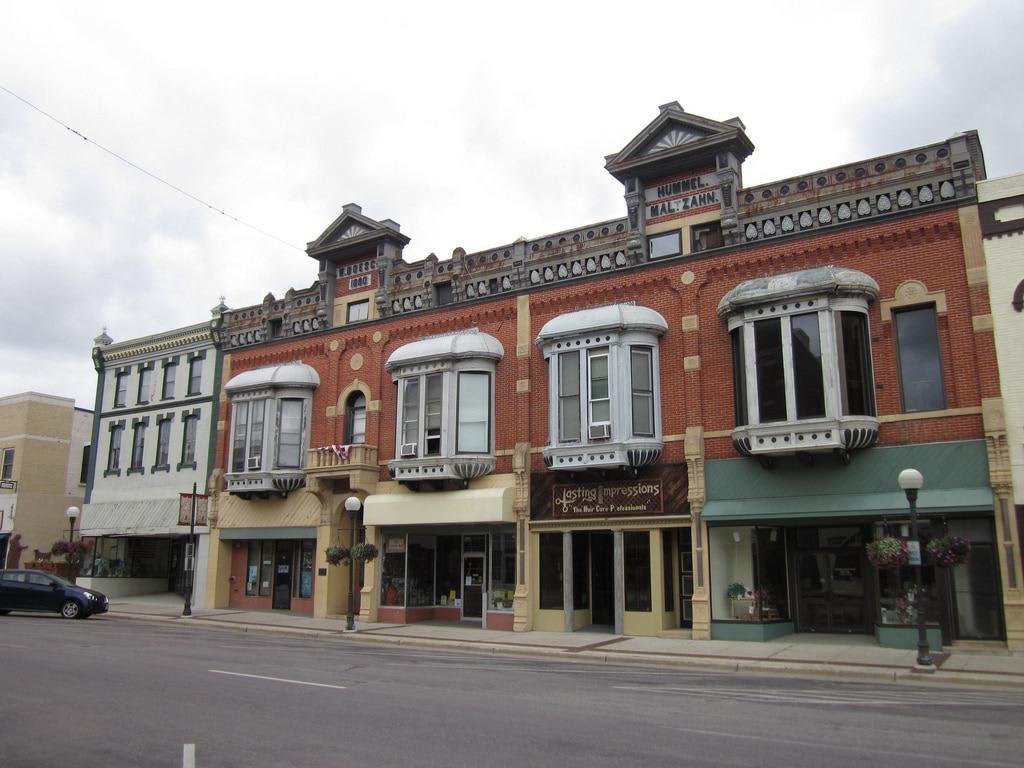 New Ulm, Minnesota
New Ulm is located in the triangle of land between the Minnesota River and Cottonwood River in Brown County. Bought in 1854 by the German Land Company of Chicago, New Ulm is named after a city in Bavaria, Neu-Ulm. The town was founded by the Turner Society in response to a backlash of racism against German American immigrants in major cities and was a planned town to provide a safe place for them. Members moved here and supported themselves with the 4-acre garden lots that were assigned to each and created a lasting community.
This German Heritage shows in many different ways, one of which is that the town is still a center for brewing in the Midwest and home to August Schell Brewing Company. You can still see Turner Hall that dates back to 1873 and is now the oldest Turner Hall still in its original use. You can visit the German Bohemian monument erected to honor the immigrants who settled this area or stop in at the Minnesota Music hall of Fame if you're a music lover, Don't forget to attend their Oktoberfest or Bavarian Blast!
13. Nisswa, Minnesota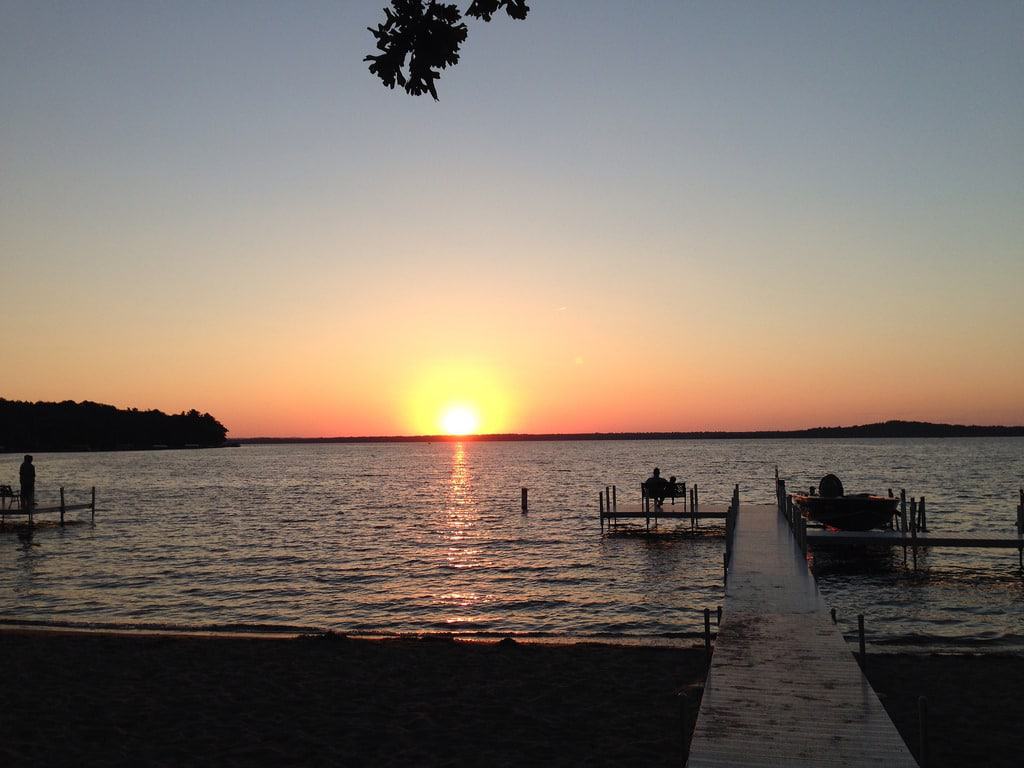 Nisswa, Minnesota
A town in Crow Wing County, Nisswa was first named "Smiley Township" before being changes to Nisswa, derived from the Native American Ojibwe word that means "the middle". A popular tourist destination due to its proximity to Gull Lake, Nisswa also is a haven for coffee lovers or those in need of some energy after a long day on the road.
Come visit to sample the delicious coffee in town at Stonehouse Coffee, a coffee shop that roasts their beans in the store, and Adirondack Coffee, which was the first gourmet coffee shop in central Minnesota! You can always treat yourself at the Chocolate Ox or indulge at Zaiser's shoe store. If you're more outdoors-inclined, the Paul Bunyan Bike Trail runs through Nisswa.
14. Northfield, Minnesota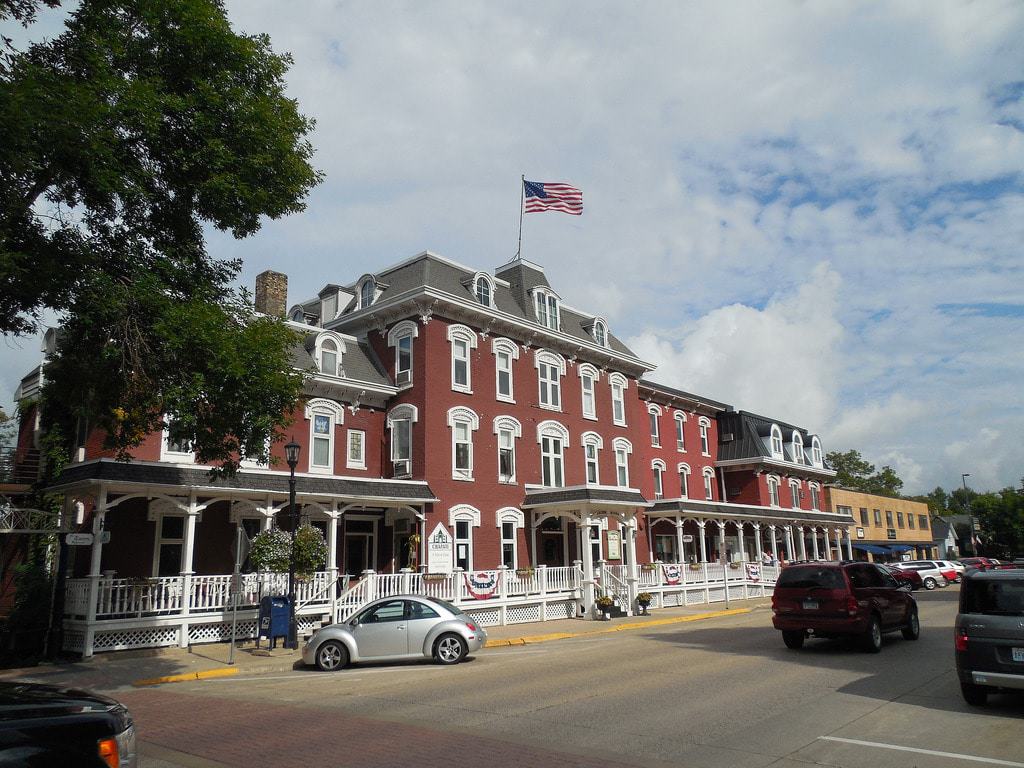 Northfield, Minnesota
Founded by John W. North, Northfield is located in Rice County. North was a New England immigrant (otherwise known as "Yankees") and was one of those who participated in New England's colonization of the far west. The town had several mills powered by the Cannon River and was also a hub for higher education even as far back as the 1860s. Visit to Northfield to enjoy this college town as well as the well-maintained downtown area that is filled with buildings from the late 19th and early 20th centuries.
For those history buffs, Northfield is famous for the defeat of the James Younger Gang in the late 1800s. The gang attempted to rob a bank when the local citizens put up a fight and derailed the robbery. The event is commemorated to this day with "The Defeat of Jesse James Days", an outdoor heritage festival held on Labor Day weekend. There are robbery reenactments, a rodeo, a carnival, and parade, as well as art expositions and music. Come out to enjoy some good old-fashioned, Midwestern fun!
15. Houston, Minnesota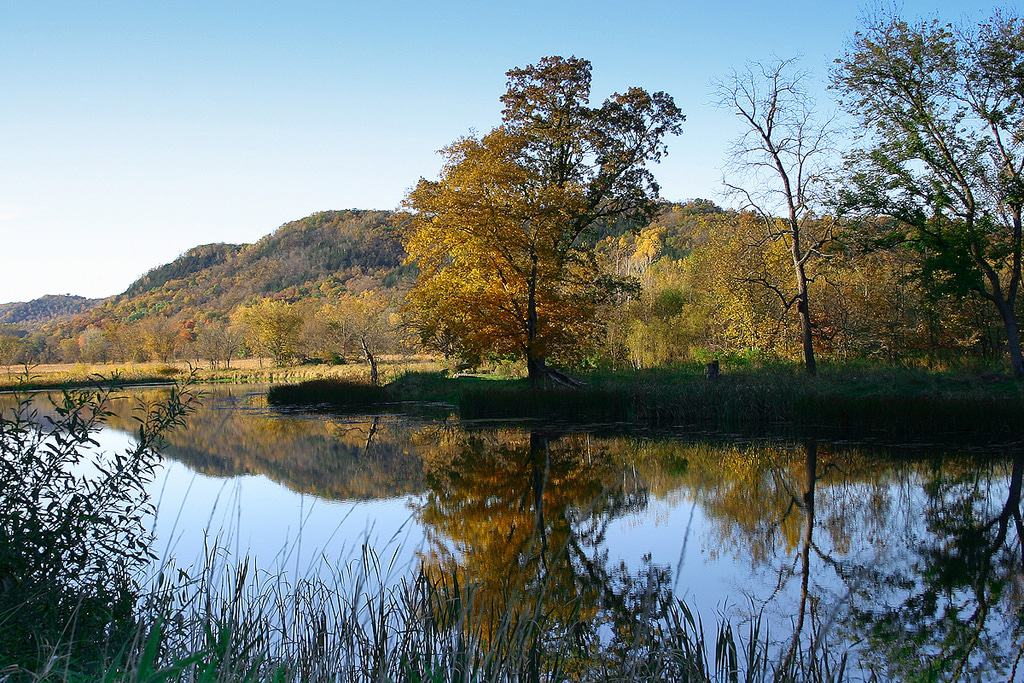 Near Houston, Minnesota
Houston, located in Houston County, is named after Sam Houston, the first president of the Republic of Texas. While it's a bit far from the city that shares its name in the Lone Star State, its ties to Texas are strong the founder, William McSpadden, served under Sam Houston in the Mexican-American War. Come out for some time away from the big city and to get back to the basics.
Houston is nestled along the Root River part of the Blufflands State trail, so remember to bring your walking shoes. Explore the Root River State Trail or catch the "Houston Hoedown Days" in July, a festival that showcases tractor pulls and dances. It also puts on the "International Festival of Owls", the only full-weekend event dedicated to owls in North America.